Photographing cities: 10 tips for capturing autumn photos
Autumn's colours make rich and beautiful photographs, even when you're shooting in an urban environment rather than the countryside. The city's lights, architecture and people add an extra dimension to nature's falling leaves. Here are 10 tips for capturing the season's oranges, reds and golds against the greys of your favourite concrete jungle. Whichever camera you use, we hope you feel inspired to get out, explore and capture the best of this evocative time of year.
Capture contrasting colours
Contrasting colours in the same image add impact, so try to capture a selection of different hues in the same frame. Visit a central city park or explore tree-lined avenues in a city's suburbs to capture kaleidoscopic red and yellow leaves on trees against brownstone buildings and a bright blue sky. However, make sure autumn's beauty doesn't distract you so you forget about the subject and composition of your photo. Try to capture architecture, people or urban details alongside autumn's colours to tell a story and maintain your viewers' interest.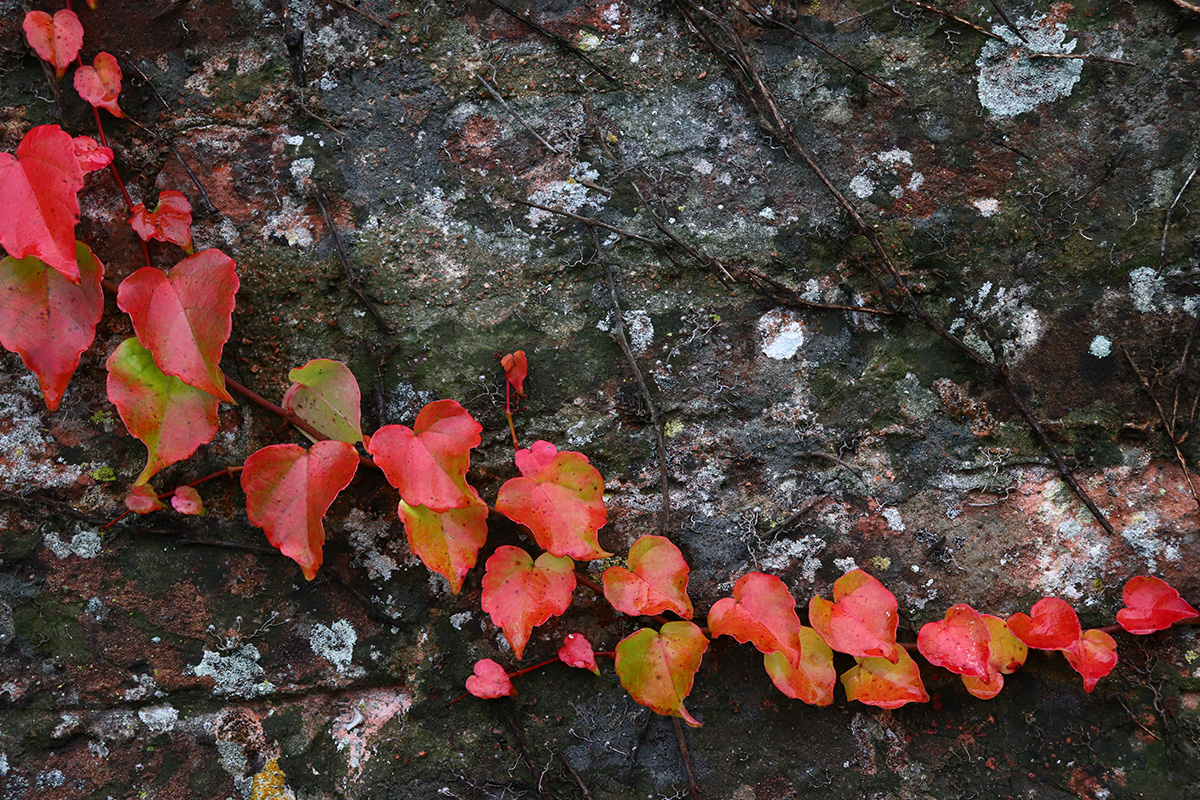 Capture autumn moods
Autumn weather is always changing, so it's possible to capture the many moods of a city in a single afternoon. The sky can be bright and sharp one minute, then overcast and stormy the next, so make the most of it and get a variety of shots. Try shooting the shadows of trees and buildings on bright, blustery days, or find a bridge and shoot darkening autumn skies over a city's river. You may find using a tripod and slow shutter speed (if your camera allows you to) helps prevent blur and captures more of the autumnal atmosphere.
Make the most of autumn light
One of the ideal times to shoot autumn cityscapes is during the 'magic' or golden hour. This is generally during the first half-hour just after the sun rises in the morning, and the last half hour just before the sun sets at the end of the day – so plan ahead. Autumn sunlight at this time can help you capture enhanced textures and shapes, ideal for getting up close and shooting fallen leaves against a pavement in crisp sunshine. Hazy light in the early morning can provide great opportunities for dramatic shots, such as empty city streets.
Fog over a river like the Thames or the Seine can look atmospheric but can be challenging to capture. If your camera has adjustable exposure settings, try using a tripod and a long exposure as foggy days will let less light into your camera.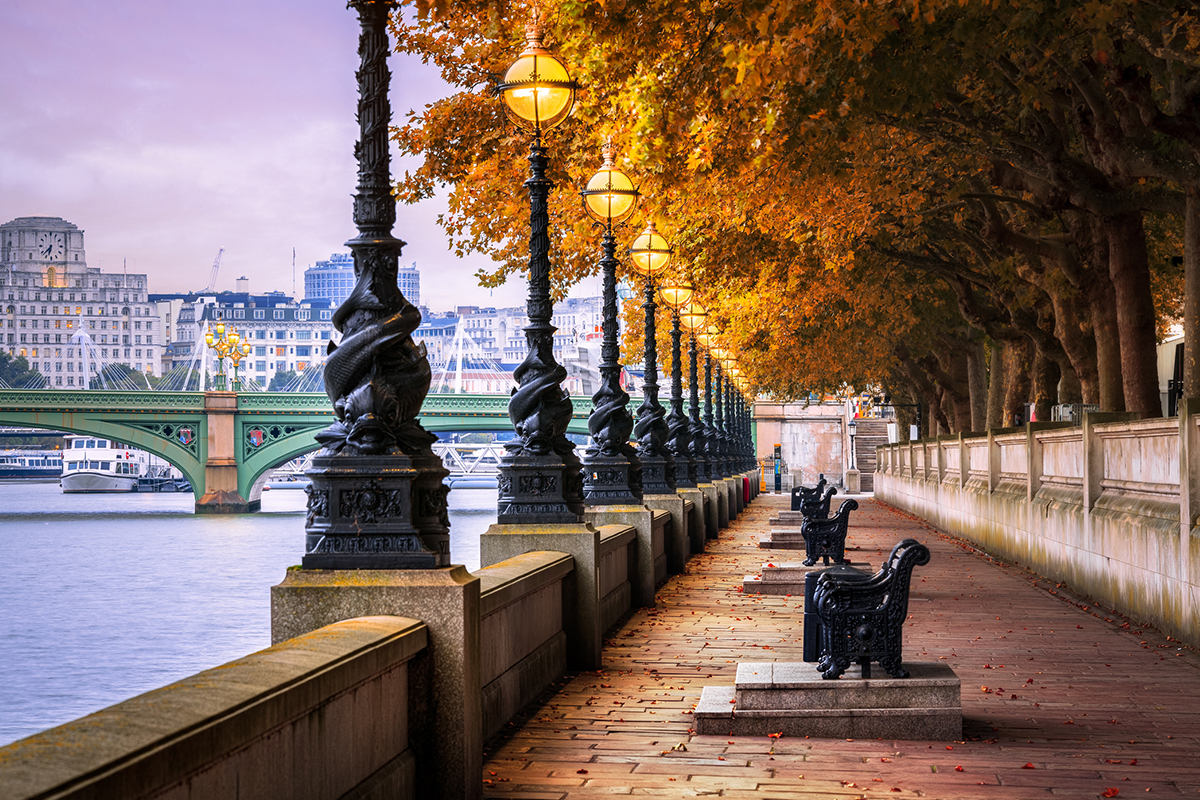 Capture autumn details
Autumnal street food, piles of leaves on pavements, Halloween celebrations and firework displays all provide great opportunities to tell autumn city stories. If your camera has a zoom function, use it to fill your frame with small details such as the orange face of a carved pumpkin, the vivid reds of autumn leaves or the seasonal fruit at a city farmer's market. You could fill the foreground of your frame with a single large leaf, leaving just a hint of a busy city avenue in the background.
Macro photography is a great way to explore the colours and textures of autumn, while also using unique points-of-view. Experiment with the macro or close-up mode on your camera and look for details such as raindrops on turning leaves or the veins of fallen foliage on a city pavement.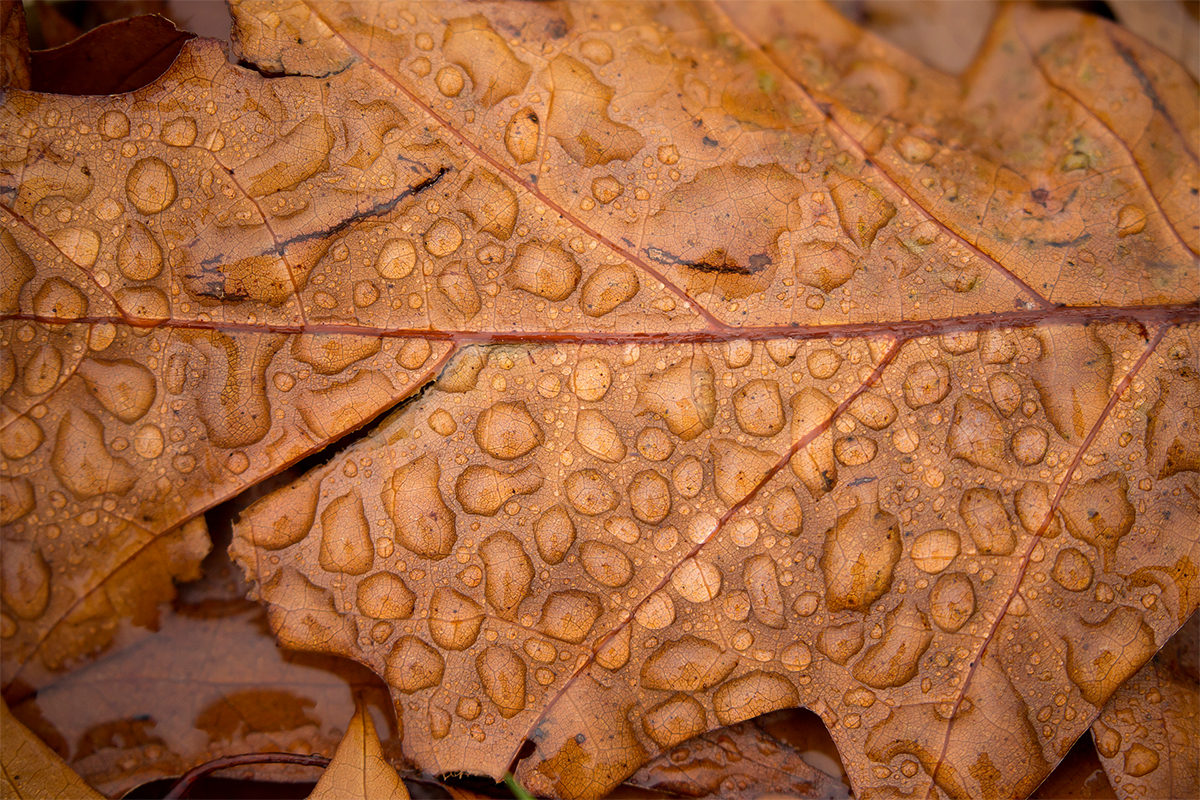 Try using filters
When you're shooting the season change in your city, filters can change the look of your photos. If you're using a DSLR, using a physical polarising filter with your preferred lens can enhances colour, deepen clear blue skies and change the look of your images quite dramatically. It's an effect not easily replicated by apps or software. If you're shooting with your compact camera, experiment with the variety of creative filters or try the scene settings. These can help soften the sun's glare and enhance the contrast or colours in your images.
Look up or look down
Photographing a city to show its beauty in the autumn is fun and challenging. A useful tip is to look upwards and see what's happening above you. Taking a photograph from this angle allows your viewer to appreciate autumnal city colours from a different perspective. The inclusion of almost-bare branches against the sky conveys an autumnal feel and allows the viewer to appreciate the beauty and fragility of nature in contrast to towering buildings or cranes in the skyline. After looking up, try looking down. Capture your own shoes standing on the crunchy leaves beneath you or turn your camera around and use the self-timer setting to capture an autumnal self-portrait from the ground up.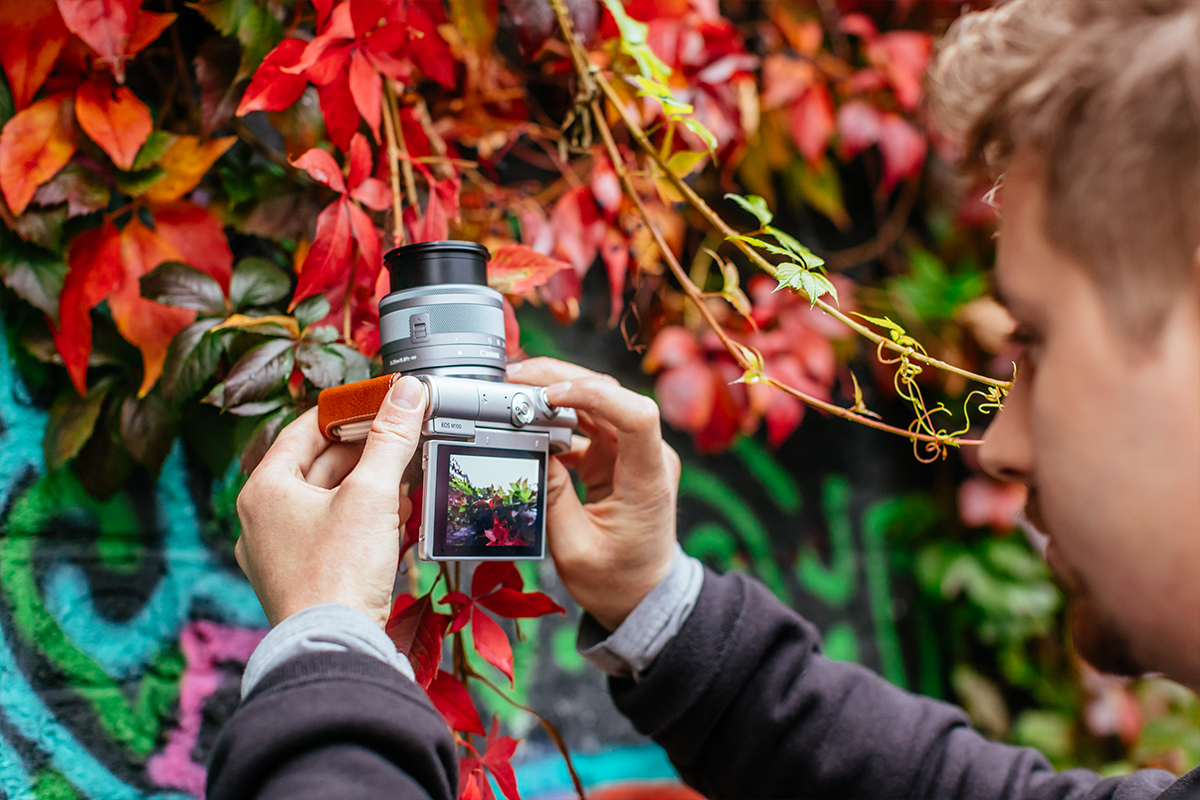 Go for an autumn city wander
If you're stuck for inspiration, why not simply walk around a city for a few hours on an autumn day and seek out beautiful photo opportunities. Find quiet spots out of the way of pedestrians and traffic where you can enjoy the urban wonderland. Is there a particular place you visited in spring or summer? Try returning to the same spot to document how it's changed from season to season. One of the best times to stroll around your city is in the late afternoon – the sky is at its most dramatic between 3-5pm and the sun is sitting at its lowest point in the sky. Head for the river or a city square and look out for autumn city scenes with dramatic shadows and silhouettes. Pay attention to patterns and empty spaces that let autumn's colours fill your frame, and think about how you could create a sequence of photographs with shapes or lines that connect each image.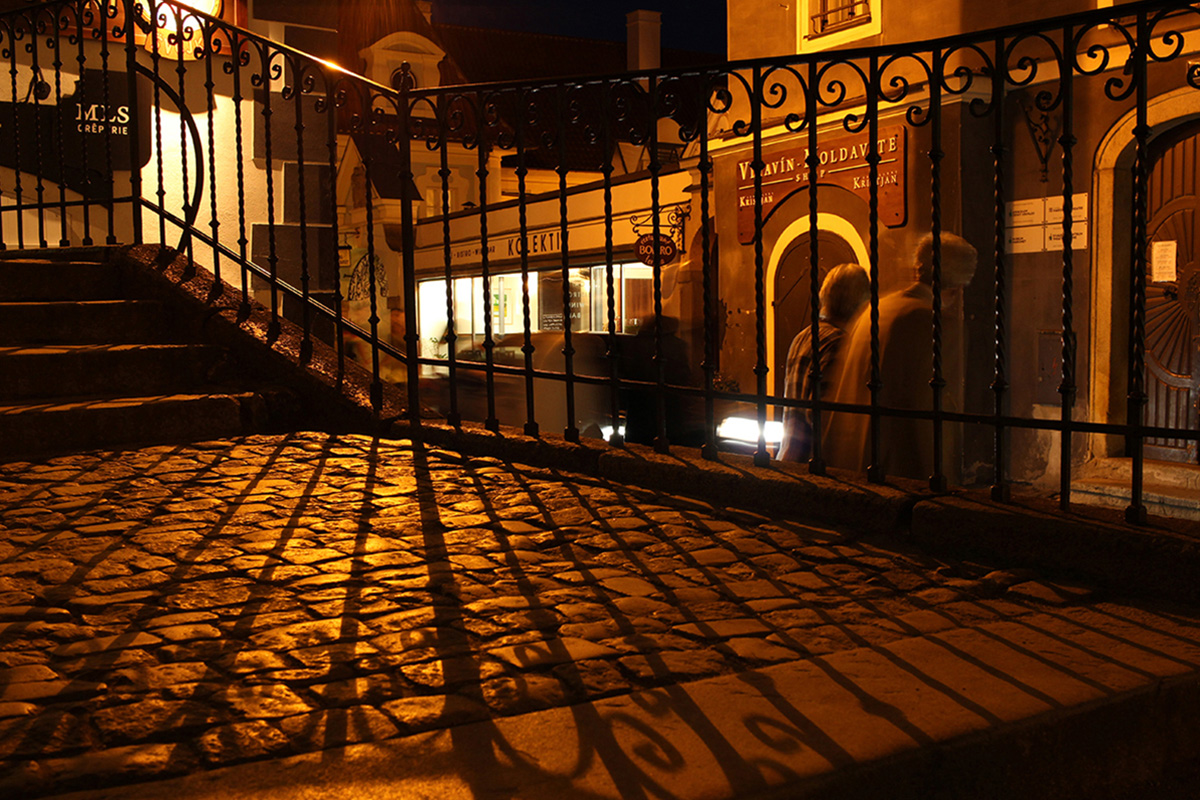 Shoot trees, rivers and leaves
Autumn is one of those rare times of year where a simple tree can make an interesting photo. There's something special about a tree turning a succession of brilliant colours. Why not revisit the same tree over several days and take a sequence of images which show how its colours change? Then print them out and display them at home as an autumn photo collage. Reflections of the city's autumn colours in a river or lake can also look breath-taking.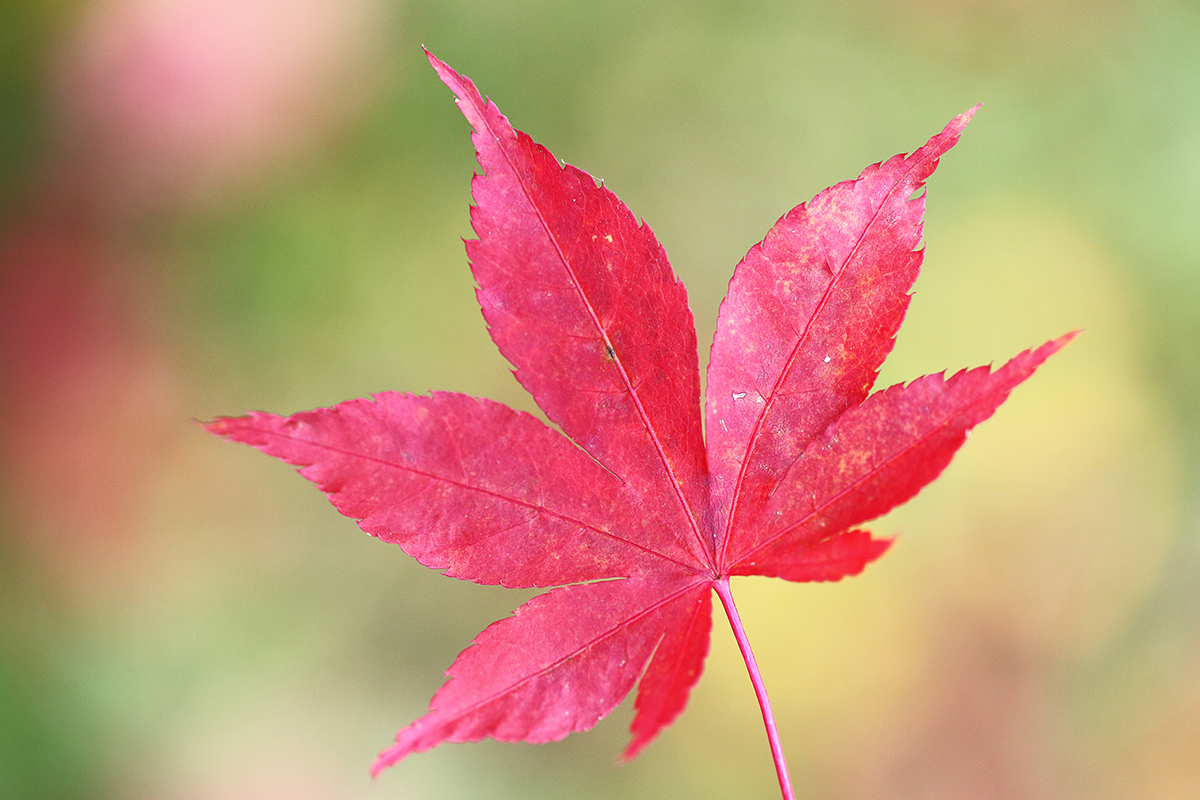 Photograph into the evening
City streets change incredibly quickly in autumn as the day fades and the lights go on. What could be a featureless scene in daylight can quickly become a gorgeous low light shot full of character and ambience. Try shooting in the twilight zone between day and night when there is still light in the sky but when you can also capture the impact of city lights. Use a tripod or a something solid to rest your camera on and experiment with long exposures. Try capturing light trails from passing cars or trees adorned with festive lights against the starry city sky. Autumn light is unique so make the most of it before winter takes hold and the days get even shorter.
Put your camera down
Whilst you're out exploring the urban autumn wonderland, remember to stop, put down your camera and take in the magic, grace and beauty of autumn. But don't rest for too long! Autumn lasts for several weeks, but the period when the colours peak and photo opportunities are at their best may only last for a few days – so be ready.  The last week in October and first week in November are often considered to be the most colourful. Keep an eye on the changes in your local park - and remember to check the weather forecast before you venture out with your camera.