Colour Controllers and RIPs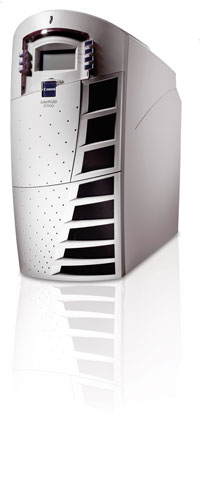 To get the best out of your colour print technology you need a controller that delivers precise control and high performance.  Our range of colour controllers and RIP's are the ideal professional printing connectivity solution with the power to perform even the most demanding colour print job with speed, ease and precision. Offering simplified network management and working with the most advanced colour management systems they are perfect for creative workgroups, graphics artists or print professionals.

ColorPASS GX-300
Designed for print on demand applications requiring high productivity and extensive workflow capabilities, the ColorPASS GX-300 is a high performance server for the imageRUNNER ADVANCE C9000 PRO Series.

Printer Kit-A1
Designed for the imagePRESS black and white production engines, the imagePRESS Printer Kit-A1 is an embedded controller offering extra power to production environments.

imagePRESS Server J200
The imagePRESS Server J200 is a top of the range external controller delivering optimum power, performance and speed to high-end print production environments.
View details

imagePRESS Server J100
The imagePRESS Server J100 external controller delivers power, performance and speed to high-end print envirnonments.
View details

imagePRESS Server T1
Providing effortless workflow, the imagePRESS Server T1 is an embedded controller option for the imagePRESS C1 print engine that delivers outstanding colour results.
View details
Printer Kit-P2
For environments that require high quality colour printing, but are not inherently graphic intensive, the Printer Kit-P2 is the perfect controller for your imagePRESS C1+.

imagePRESS Server A1100
The imagePRESS Server A1100 is a versatile entry-level server designed specifically for use with the imagePRESS C6000.

imagePRESS Server A2100
The imagePRESS Server A2100 is designed for the imagePRESS C7000VP / C6000VP / C6000 and built for the needs of demanding production environments.
imagePRESS Server A3100
The imagePRESS Server A3100 is a high-end server designed for the most demanding production environments and drives the imagePRESSC7000VP / C6000 VP / C6000.

imagePRESS CR Server A7000
Driven by CREO Color Server Technology, the imagePRESS CR Server A7000 offers intuitive controls, exceptional quality and superb productivity for a raft of digital print applications.

imagePASS-A1
Ideal for users requiring genuine Adobe PostScript and high speed RIP capabilities with extensive colour control, the imagePASS A1 is designed for Canon's light production imageRUNNER ADVANCE C9000 PRO Series.
or